Before we begin, we need to preface this article with a few important points.
One: This article is in no way intended to diminish the profound impact that all the cited events may have, or potentially will cause, on us as a community (local or global).
Two: We are a real estate brokerage. So, any opinions expressed here simply reflect our take on how past events have impacted the Niagara real estate market.
Three: No one can predict the future of real estate; All we can do is review the past and make note of any trends. It is with these past events in mind that we offer our own perspective.
Let's get started.
If there's one bet you can feel confident making, it's that the world is always changing and that the real estate market (macro or micro) will change with it. As the market moved into 2020, we were still running historic "highs" for the Niagara real estate market. The market was producing double-digit price increases, and sales volume was unlike anything we had witnessed, and new housing developments were cropping up every day.
And now? We're approaching the end of March amid a virtual shutdown due to the COVID-19 virus. With governing bodies at every level encouraging, or even mandating, self-isolation, most markets (aside from the supermarket variety) are going to slow down.
Where do we go from here?
No one can tell anyone with certainty. We've lost our sense of confidence in a concrete future. It's as foolish to predict future events as it is to believe everything you hear. So, in order to provide some guided insight into how we might possibly recover from the effects of this pandemic, let's take a look at a few global events that we have lived through, and consider what we might learn.
September 11, 2001.
In 2001, the real estate market was moving along well. With over 500 sales per month, the devastating reality of the 9/11 attacks instantly stagnated the market. Sales pulled back below 400 in 3 out of the next 4 months and did not climb back to 500 again until March 2002. Pricing was largely flat until the spring of 2002 but, because the average sale price in Niagara was between $135 – 155,000 for those 12 – 14 months, a 5% change didn't look as significant as it does today.
Here is a graph showing the monthly # of sales and the average sale price for June 2001 to June 2002 in the Niagara Association of Realtors according to the MLS® data:

The abrupt nature of the 9/11 attacks was as catastrophic for the United States' economy as it was for its citizens. There was no slow-simmering concern that built up momentum like it had during the 2008 recession or the COVID-19 pandemic: September 10th, 2001 was a pretty non-descript day. In fact, most of us can probably recall where we were on the morning of the following day. The housing market, along with the economy, descended into chaos as we humans tried to make sense of the madness of the day.
Although the effects of 9/11 are still evident even today, the initial shock did wear off and life returned to its new "normal." And as the people recovered, so too did the real estate market, which saw solid growth leading to double-digit percentage gains in the 2005 and 2006 markets.
The 2008 Financial Crisis
In 2008, the summer months began showing signs of eventual economic collapse. As these simmering signs started to boil over into September 2008, the mounting pressure caused multiple major financial institutions to fail. On September 29th, while Lehman Brother's collapsed, the Dow Jones recorded its worst single-day point loss in history (up to that point of course).
The real estate market echoed that collapse, too. Note the decline in the graph below where prices dropped 11.3% from September to October.
In Q4 (Oct – Dec), which is typically a fairly strong period of any given year, we saw significant pullback in sales: Compared to Q3 (July – Sept), sales in Q4 were down 44%.
Furthermore, Q4 2008 sales were down 26.5% compared to the same time period (Oct – Dec) in 2009.
Monthly sales didn't get over 400 again until March 2009 as prices found their footing. Housing prices continued to bounce around for the next 12 months, but eventually regained their footing in the summer months of 2009. After prices stabilized, the next few years saw increase of 4-6% annually.
However, let's not forget that these trends represent the entire Niagara real estate market, and do not account for the variances that would have been recorded from city to city, and among the various neighbourhoods.

Here is a graph showing the monthly # of sales and the average sale price for June 2008 to June 2009 in the Niagara Association of Realtors according to the MLS® data:


So, what's the similarity between the 2008 Financial Crisis and the COVID-19 pandemic? Well, each disaster was quietly humming in the background as "the market" went about its business. We were very aware of what was happening, but its effects weren't felt on a large scale until the event literally (and metaphorically) arrived on our doorsteps.
COVID-19
This is where we encourage you to read the title of this article again.
This is by no means meant to predict what is about to happen. We are only taking the recent global events as a guiding light on what can be reasonably expected.
Our local and provincial real estate markets have enjoyed immense growth for several years now. Demographic shifts, new construction, heavy seller's markets and overall activity have driven our pricing into levels that are still beyond comprehension.
In fact, the average monthly sale price in Niagara had just cracked $500,000 for the first time in history in February 2020. Total monthly sales had rebounded from a relatively slower 2018 with a relentless demand underway across many segments of the market.
All the while, COVID-19 was biding its time, silently hovering in the background like a computer virus. But, COVID-19 is no computer virus. And, unlike the isolated annoyance of shutting down a computer, the pandemic has shut down the planet as we all attempt to isolate and get our motherboard back up and running.
With that, we must adapt how we analyze the March 2020 market, and figure that, for the time being, the market really has to be looked at on a week-to-week basis. Next month, market reports for March 2020 should come with a massive asterisk beside them. March 1 – 13 and March 14 – 31 will be 2 distinct segments.
Here is a graph showing the monthly # of sales and the average sale price for October 2019 to August 2020 in the Niagara Association of Realtors according to the MLS® data: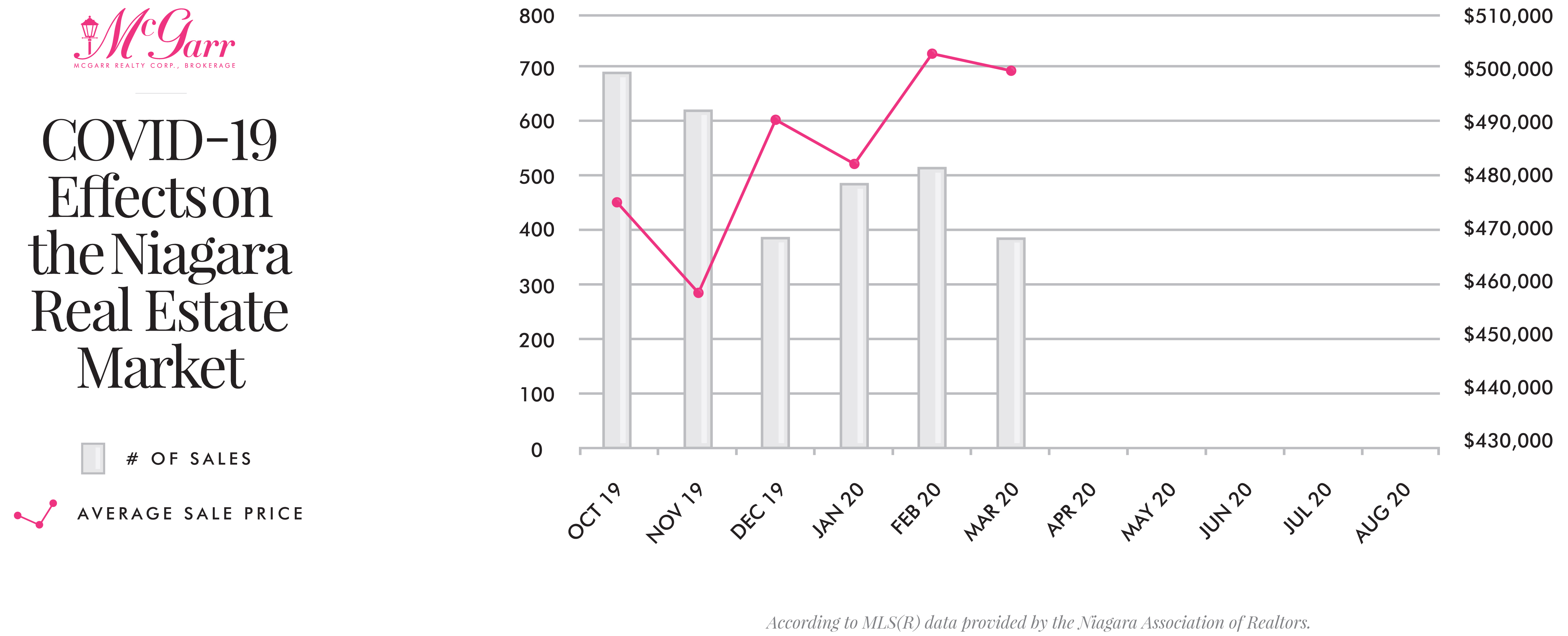 You'll note that half of the graph is blank as no one has access to that data as of yet. We will fill in those blanks as the year progresses but, it is possible that, over the next several months, we will see a pull-back of the macro data.
Now, some of you might wonder: "Does this mean that my house will lose value?" No, it does not. Some will even gain value. There are, and will be, buyers in the marketplace. Every property will have to be looked at on a case-by-case basis, since, on a macro level, the real estate market is likely to follow the same pull backs and hesitancy that characterized previous global events.
So, how do sellers and buyers navigate these murky waters? With the advice of a professional REALTOR® who is fully immersed in the current market. Finding a real-estate agent who can research effectively and strategically will be paramount for your success as a seller or buyer.
Will we predict the numbers? Not a chance.
But we will be here on a daily basis keeping track of the real data and current events of the market.
Do you have questions or ideas you'd like to share? Please feel free to reach out to us at info@mcgarrrealty.com or contact one of our awesome Realtor® team today.
Take care,
The McGarr Realty Team.