Families from the GTA ask themselves this question on a daily basis: Are Niagara home prices worth the commute?
At McGarr Realty, we think the answer is a resounding "yes!" If you're still trying to figure out if a commute is in your future, we'd love to help you work through it.
First, let's have a look at average home prices in the GTA and surrounding communities, including Niagara.
We've compared average selling prices for homes in January 2019. For our purposes, these averages represent all categories and aren't broken down into houses versus condominiums, or other types of dwellings: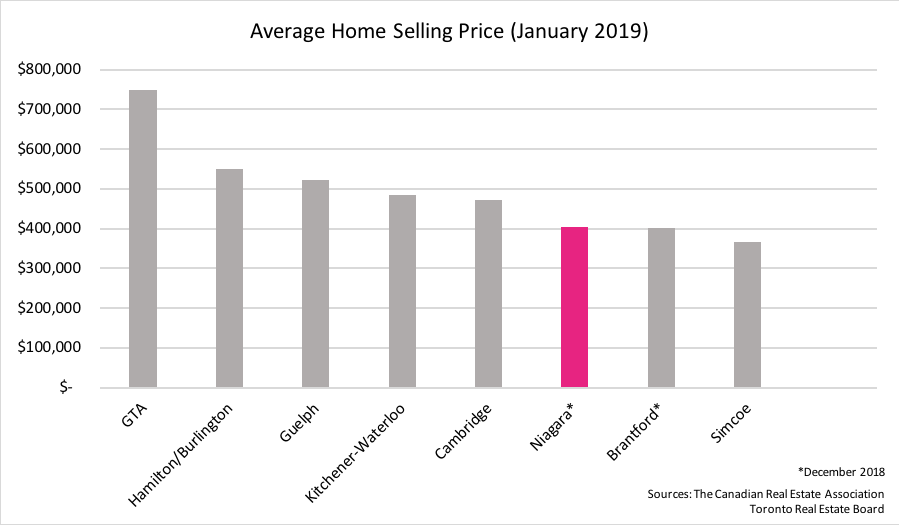 You can see at a glance the difference in selling prices in the GTA versus surrounding communities. In addition to the availability of homes for sale at more affordable prices, there are also numerous modes of transportation to help facilitate commuting to work. Public transit, such as GO, is now widely available throughout Southern Ontario, if you don't feel like driving yourself or carpooling.
Private transit, such as the company Megabus, gives commuters the opportunity to get close to the GTA, where they can pick up a GO train or bus. From some areas like Niagara Falls and St. Catharines, the Megabuses travel directly to downtown locations in the GTA, where it's easy to pick up the TTC. Bus fares are on par with GO transit fares, and in some cases, are less expensive.
One of the downsides is that commuting often means longer days, with having to wake up early and typically returning home later in the evening due to increased travel time.
To avoid commuter burnout, experts suggest mixing things up: Some days, consider driving yourself or carpooling; other days, take the train or the bus. Where possible, work from home, if your work situation permits this.
In contrast to the downsides, owning your own home – creating an asset that will benefit you for years to come – is one of the best benefits of living outside the GTA. For young couples ready to start their own families, it's a smart financial decision.
If your family situation is such that commuting is a distinct possibility and in fact holds some appeal, it has been proven that your real estate dollars will go much further outside the GTA.
Couples will need to consider various factors before making a decision to relocate. Ask yourselves, for example: How long and what will the cost of the commute be? How much will taxes be in this city? What will water/sewer costs be? Are there extra costs for property ownership we need to consider, such as home repairs? Will gasoline/groceries cost more or less outside the GTA? Is the car we are driving capable of handling the commute, or will it make more sense to use public transit? Is there public transit to take me to a GO train or bus location, or will I be driving/parking for the day?
If you can answer all these question and like what you see, the only decision left is to choose your new community.
Southern Ontario's smaller communities offer families multiple benefits: Local healthcare; education; entertainment; highway access; the choice to use independent retailers over chains; interesting histories, and the beauty of the great outdoors.
If you're seeking a home for your family in St. Catharines or elsewhere in Niagara, McGarr Realty's expert team can certainly be of assistance.
Our Realtors® understand that you might not be able to get there every day for house searches, so we'll arrange to show you suitable homes for the times you can visit. We'll stay in touch online and by phone, and if a property becomes available that suits your needs, we'll make sure you hear about it in time to arrange a showing that fits in with your schedule.
Think about it: your own home, located in one of the 12 gorgeous municipalities of Niagara.
No matter where you've been during your busy day, the best part will be coming home.
***
McGarr Realtors® are standing by, ready to help our clients find the perfect Niagara or St. Catharines home at a price they can afford.
Give our office a call at 905-468-9229 in Niagara-on-the-Lake, or 905-687-9229 in St. Catharines. Send us a message via our contact page, HERE.