Welcome to our new weekly blog series, #McGarrMonday!
Every Monday, this series will feature a spotlight on one of our REALTORs, giving you a more in depth look into the lives of those on our team here at McGarr. Running on all four of our social media platforms, you can look forward to this new, fun and interesting post at the beginning of every week!
The inaugural #McGarrMonday spotlight blog features Liana Romano. Check out her full answers below…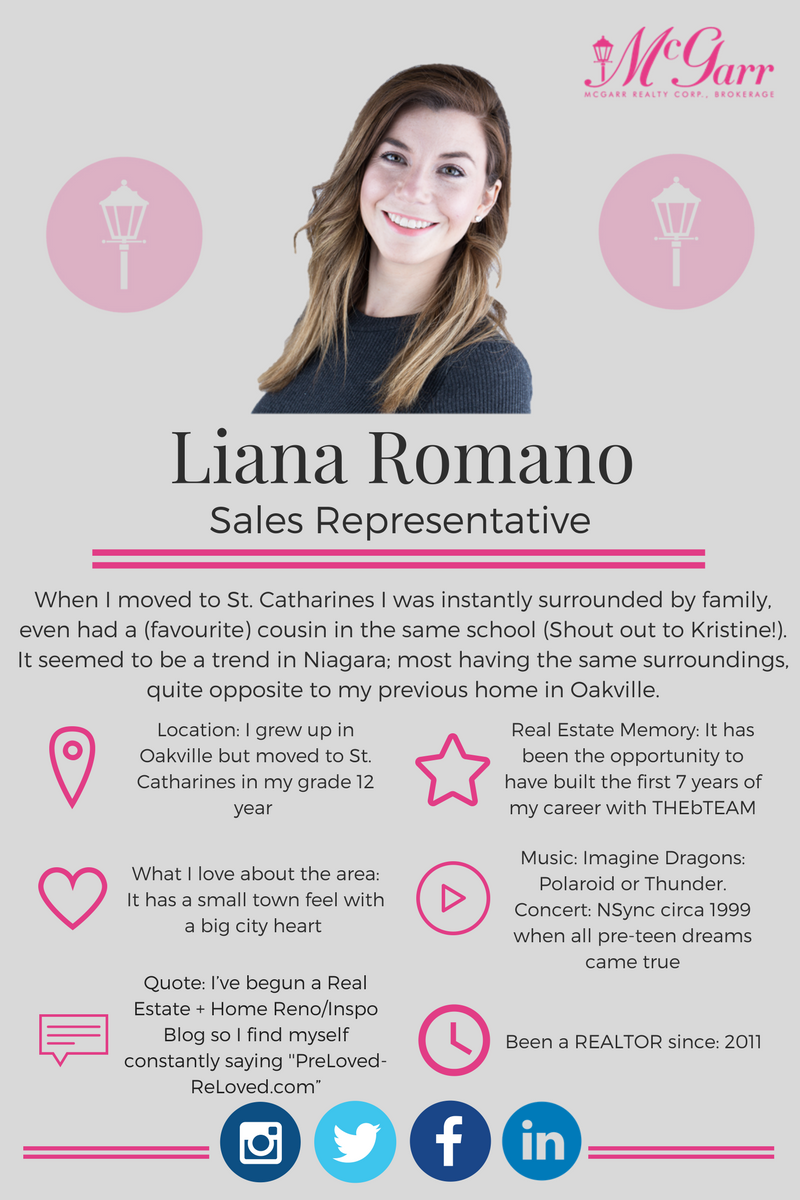 Where are you from/where do you now live?
I grew up in Oakville but moved to St. Catharines in my grade 12 year of high school.
Something you love about Niagara?
It has a small town feel with a big city heart.
When we moved to St. Catharines I was instantly surrounded by family, even had a (favourite) cousin in the same school (Shout out to Kristine!). It seemed to be a trend of Niagara; most having the same surroundings, quite opposite to Oakville.
Favourite quote or thing to say?
I've begun the collaboration of my Real Estate + Home Reno/Inspo Blog so these days I find myself constantly saying "PreLoved-ReLoved.com".
Favourite real estate memory?
Is every time I say "Your Offer was Accepted!" Too cliché? Yes, yes it is.
I would have to say it's been the opportunity to have built the first 7 years of my career with THEbTEAM and having them standing beside me while I venture out on my own. Their knowledge, consistent guidance, and endless lessons are invaluable and I never could have learnt any of it in any other situation; I'm certain of it.
Favourite band/song/concert?
Imagine Dragons: Polaroid or Thunder.
Concert: NSync circa 1999 when all pre-teen dreams came true.
How long you have been a Realtor?
Since 2011.