This week we have the #McGarrMonday REALTOR spotlight on Sales Representative Jim Broderick! Take a look at Jim's full blog below: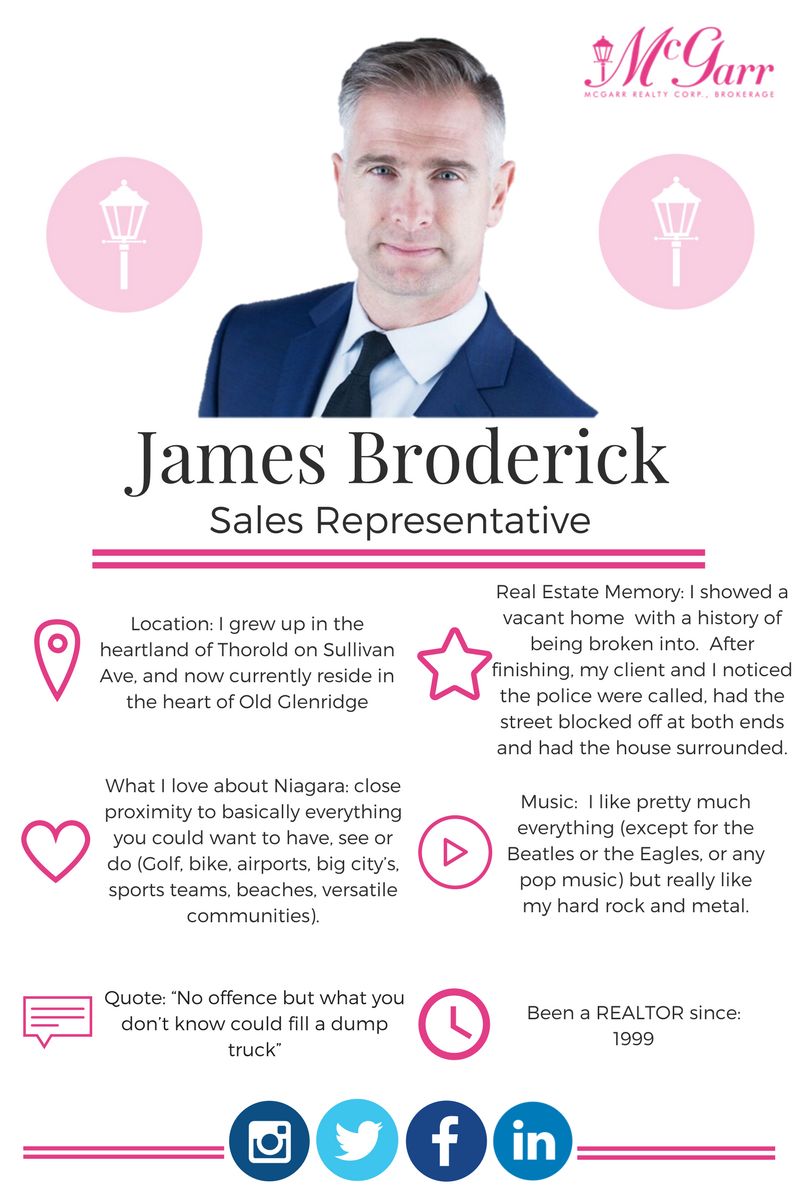 In my 18+ years of being a realtor, I have witnesses numerous changes in all facets of the business. The change that 've enjoyed the most are the people who've become realtors in the past few years. In the old days the industry was full of salespeople who were retired from one job and were working on a 2nd career or who were only selling until they could find a job in their preferred field. Nowadays you are seeing highly educated "young people" getting licensed either right out of University or College or prior to turning 30. This youth movement features people who are treating Real Estate sales as a career and who are implementing exciting and innovative approaches to doing our business. I don't think that I've ever not liked real estate sales but this new wave makes coming into work more fun.
Location:
I grew up in the heartland of Thorold on Sullivan Ave, and now currently reside in the heart of Old Glenridge.
What I Love About Niagara:
What I love about Niagara is the close proximity to basically everything you could want to have, see or do (Golf, bike, airports, big city's, sports teams, beaches, versatile communities).
Quote I'm Known for:
"No offence but what you don't know could fill a dump truck"
Favourite Real Estate Memory:
Was showing a vacant home 15 years ago that had a history of being broken into. After coming up from the basement, my client and I discovered that the police had been called, had the street blocked off at both ends and had the house surrounded. Pretty cool.
Favoutite Music:
I like pretty much everything (except for the Beatles, the Eagles, or any pop music) but really like my hard rock and metal. Got to see one of my fav's (Iron Maiden) play in my wife's hometown of Sarnia a few years back. It was neat seeing a band this huge play in such a small town.
Been a REALTOR Since:
1999
Here are a few photo's from my time here at McGarr: