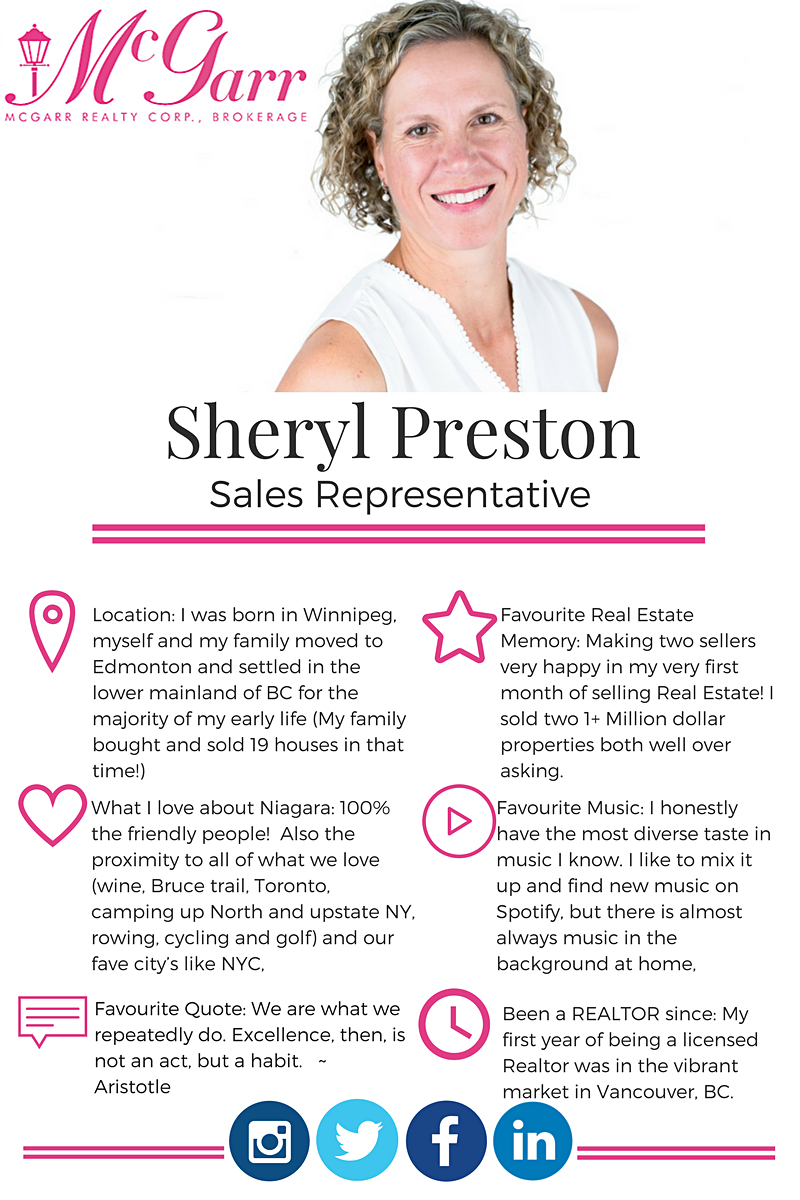 Location:
I was born in Winnipeg, myself and my family moved to Edmonton and settled in the lower mainland of BC for the majority of my early life (
My family bought and sold 19 houses in that time!) I
was between Victoria and London Ontario as an athlete with the National Rowing Team, then settled into Vancouver.
Now I am here! My husband and myself just bought a beautiful home North of Lakeshore this summer.
We tucked ourselves right in behind Bugsy's on purpose!
What I love about Niagara:
100% the friendly people!
Also the proximity to all of what we love (wine, Bruce trail, Toronto, camping up North and upstate NY, rowing, cycling and golf) and our fave city's like NYC, Boston and Chicago are hop skip and a jump away!
I also love the running community here, I've met so many great people.
My favourite quote:

We are what we repeatedly do. Excellence, then, is not and act, but a habit. ~ Aristotle
Favourite real estate memory:
Making two sellers very happy in my very first month of selling Real Estate! I sold two 1+ Million dollar properties both well over asking. Even better I helped my client win (my first ever) bidding war to a townhome she loved.
I honestly have the most diverse taste in music I know.
I like to mix it up and find new music on Spotify, but there is almost always music in the background at home, in the car and at the office.
My ideal "concert" is seeing a local band at a local pub or venue.
My first year of being a licensed Realtor was in the vibrant market in Vancouver, BC.
I then moved to Ontario in the summer of 2016 and have been practicing since then.