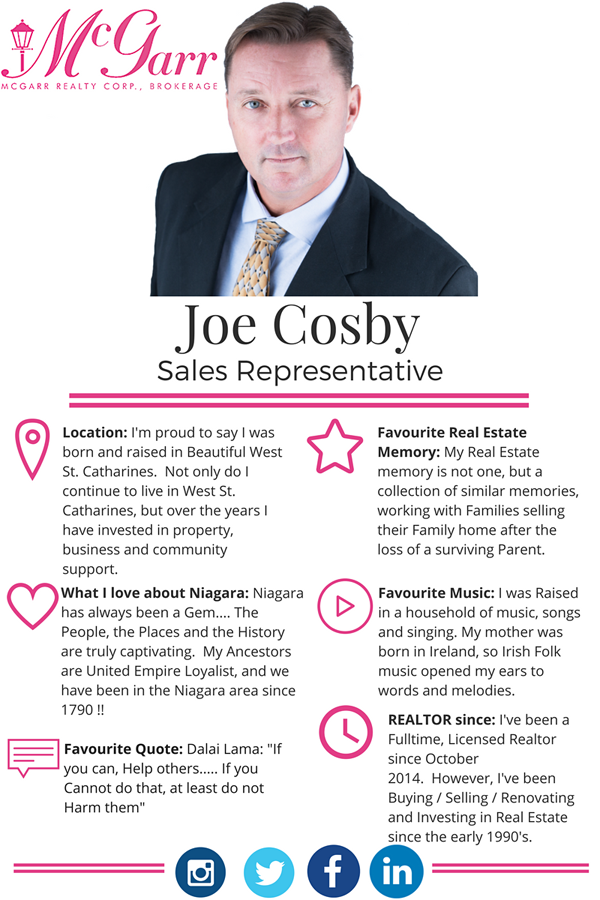 Location:
I'm proud to say I was born and raised in Beautiful West St. Catharines.
Not only do I continue to live in West St. Catharines, but over the years I have invested in property, business and community support.
Western Hill, as it's locally known, truly has it all! Great Neighbourhoods, Schools, Sports and Activity sites, Hospital, Shopping and so much more!
All within minutes of each other.....
What I love about Niagara:
Niagara has always been a Gem.... The People, the Places and the History are truly captivating.
My Ancestors are United Empire Loyalist, and we have been in the Niagara area since 1790 !!
Favourite quote:
Dalai Lama: "If you can, Help others..... If you Cannot do that, at least do not Harm them"
Favourite Real Estate Memory:
My Real Estate memory is not one, but a collection of similar memories, working with Families selling their Family home after the loss of a surviving Parent.
Having lost my parents decades ago, I find I have a tremendous ability to Empathize & Bond with families during those difficult times.
Favourite Music:
I was Raised in a household of music, songs and singing. My mother was born in Ireland, so Irish Folk music opened my ears to words and melodies.
My first and favourite concert moment has to be Hitchhiking to Toronto in 1984 with my older brother Mike, to catch Bruce Springsteen and the CNE.
We found a place to crash that night, and Hitchhiked home the next day! Different Days for sure!
Realtor since:
I've been a Fulltime, Licensed Realtor since October 2014. However, I've been Buying / Selling / Renovating and Investing in Real Estate since the early 1990's.