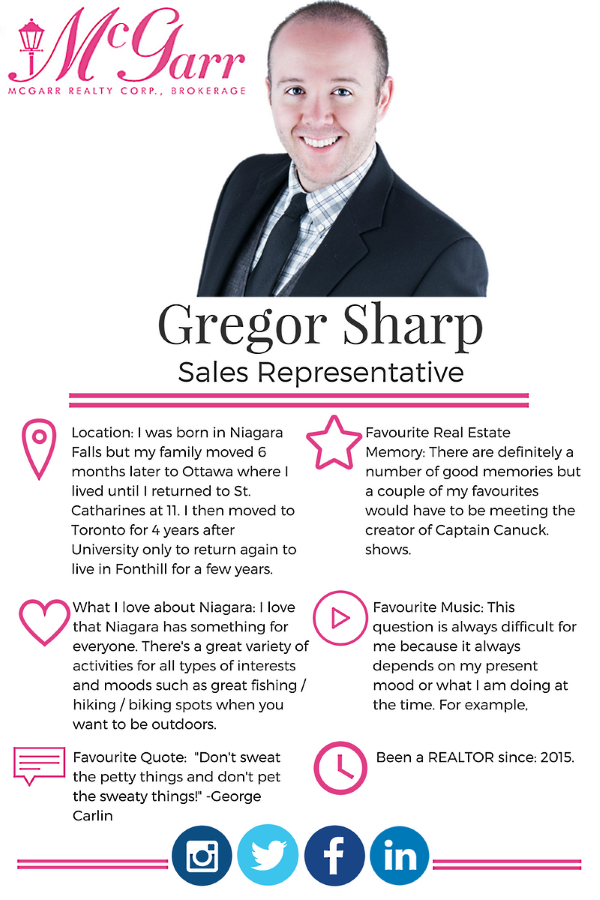 I was born in Niagara Falls but my family moved 6 months later to Ottawa where I lived until I returned to St. Catharines at 11.
I then moved to Toronto for 4 years after University only to return again to live in Fonthill for a few years before moving back to St. Catharines
just last year, which is where I live now.
What I love about Niagara:
I love that Niagara has something for everyone. There's a great variety of activities for all types of interests and moods such as great fishing / hiking / biking spots when you want to be outdoors; wine country / fantastic restaurants for the foody in you;
if you like sports and want to catch a game there's the Ice Dogs / River Lions or a short ride on the QEW brings you to the Maple Leafs / Blue Jays / Sabres / Bills; Niagara-on-the-Lake / Queenston both share amazing history when you feel like getting in touch with the past, or if you want to be a tourist for the day there are plenty of attractions in Niagara Falls to visit.
Much like music, it really depends on my mood and what I'm looking to achieve in that moment with a quote, but one that comes to mind right now is George Carlin's piece of excellent advice about life: "Don't sweat the petty things and don't pet the sweaty things!", if you heed that advice daily it will surely save you from many negative outcomes in life! :)
Favourite real estate memory:
There are definitely a number of good memories but a couple of my favourites would have to be meeting the creator of Captain Canuck while showing my clients his home and also getting to be a part of casting an episode of one of Scott McGillivray's HGTV shows / meeting Scott while being on set for the open house with my team, Schwenker Homes.
~
This question is always difficult for me because it always depends on my present mood or what I am doing at the time.
For example, I love listening to movie soundtracks / musical scores when I'm focusing on work because the lack of vocals / lyrics doesn't distract me. Otherwise, if my wife and I are entertaining friends or family we'll typically put on today's biggest hits.
If we're cooking we usually throw on some country. However, if I had to choose what I would play at this very moment, it would probably be Christmas music now that we're just over a month away from the big man in the red suit touching down on Niagara's rooftops.