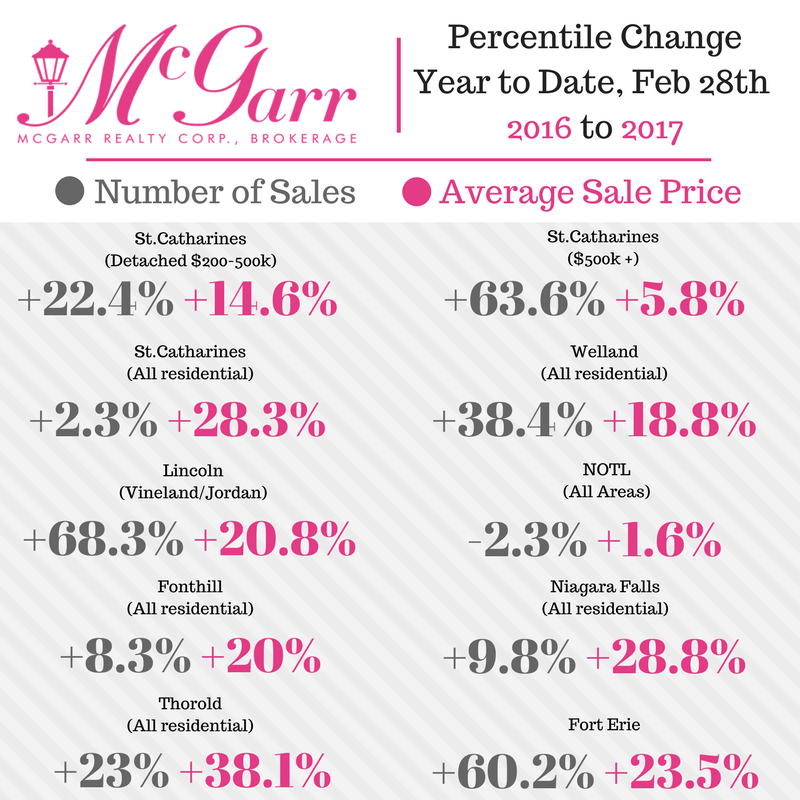 As we roll into March and look back on the first few months of the year, we can confidently say that 2017 has not lost any of the steam that we experienced in 2016. Almost across the board, average prices and overall buyer demand have both sustained their torrid pace.
We are firmly entrenched in a seller's market with high demand coupled with low inventory only driving the upward trends which we're experiencing across the Niagara Region. A big driver in our market is that the supply side is being consumed by home buyers from out of the market who are not feeding the supply side. The result is (significantly) more buyers looking at the same amount of inventory.
Where will it go? Predicting macro market trends is a dangerous game. For example, who out there was predicting that so many of our municipalities in Niagara would experience gains of 25% last year in the average sale price? Many of us in the REALTOR® community have been beating the drum for years that we were underpriced but to outright state that "x" was going to happen in our market was nearly impossible to do, at least with any certainty.
So, we will continue to operate in these new market conditions and work to intelligently and skillfully position our clients. These conditions are exciting for some, stressful for others. One person's victory is another's disappointment. On a human level, it can be a challenge but helping navigate through challenging waters is what we do 24/7/365.
Such a seismic shift requires a strategy shift and a firm plan. To discuss your plan, please feel comfortable reaching out to a member of McGarr at 905-687- 9229 or via info@mcgarrrealty.com