This week get to know Raiana Schwenker, a Sales Representative at McGarr Realty: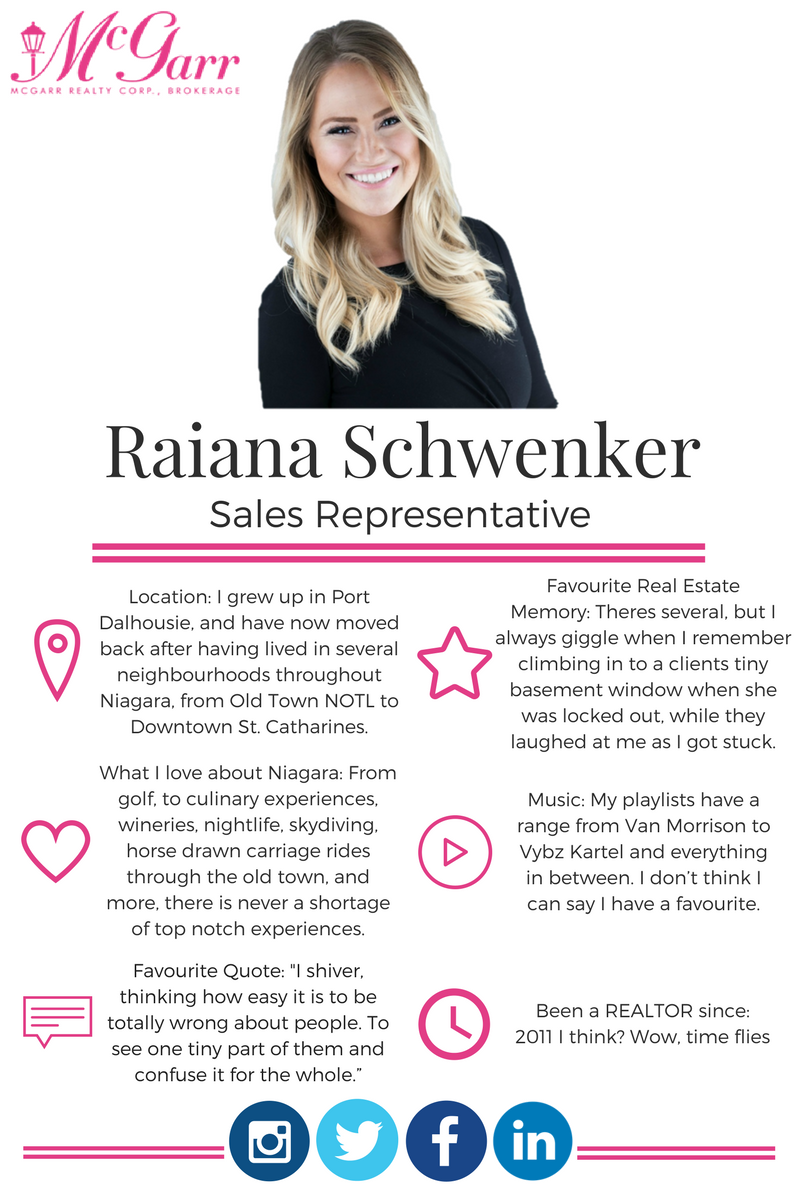 Where have you lived and where do you live now?:
I grew up in Port Dalhousie and now have just moved back after having lived in several neighborhoods throughout Niagara from Old Town NOTL to Downtown St. Catharines. I am so excited to be back in Port, its such a great community and I love being so close to the water, and with a ton to do within walking distance! I also lived in Toronto for a few years, and briefly in Ottawa and Muskoka.
What do you love about Niagara?
It's incredible to me how much Niagara has to offer that only just now seems to be truly recognized and appreciated both by those out of town and locals. From golf to culinary experiences, wineries, nightlife, skydiving, horse drawn carriage rides through the old town, beach days & sailing, jet boat rides through the falls - there is never a shortage of top notch experiences. We have incredible luxury experiences and homes, but affordable when compared to our Country's more metropolitan areas. On that note, our proximity to Toronto is short, and growing even shorter thanks to consistent 10-minute flights from NOTL Airport and the Go Train on its way! We have everything you could want.
Favourite Quote:
"I shiver, thinking how easy it is to be totally wrong about people. To see one tiny part of them and confuse it for the whole." "There isn't a person you couldn't love if you could read their story".
Favourite Real Estate Memory:
There's several, but I always giggle when I remember climbing into a client's tiny basement window when she was locked out, while they laughed at me as I got stuck.
Favourite Music:
My playlists have a range from Van Morrison to Vybz Kartel and everything in between. I don't think I can say I have a favourite.
Been a REALTOR Since:
2011 I think? Wow, time flies.
http://www.schwenkerhomes.com | www.facebook.com/schwenkerhomes | www.instagram.com/raianaschwenker